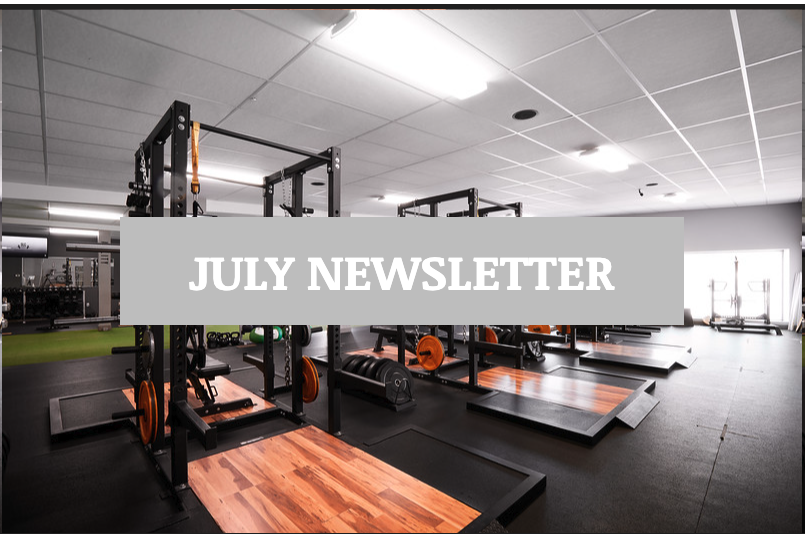 Happy July SLC S&C!
We hope you're all having an excellent summer so far! Please read on for important updates this month.
---
In this Newsletter
July 4th Hrs & Gym Closure
Current Training Phase
New Class Structure
New Youth Class Time

Moving from Wednesdays at 7pm to 5pm

SLC Nutrition With Elise
---
Operating Hour Changes and Closure
July 4: 5:00 am – 7:30 pm
July 8: Closing at 11 am
July 9-10 : CLOSED
July 24: Normal Operating Hours
---
CURRENT TRAINING PHASE
Muscular Hypertrophy Through Isometrics
Throughout Block VII, a three-week block running from June 13-July 1, our primary objective was muscular hypertrophy through an increase in time under tension via longer eccentric tempos (i.e. 5 second negative) or higher number of sets and reps (i.e. 4×6, 3×10, 3×12, etc.).
In Block VIII, a second three-week block running from July 4-22, we will continue with this thought process of increasing time under tension for muscular hypertrophy adaptations via longer isometric holds, or paused reps with low to moderate intensity, while also continuing to increase the number of reps in accessory movements later in the session. Volume will remain steady throughout the block whereas load or intensity is expected to increase weakly. Although, our accessory movements will progress/regress appropriately within the upcoming block based on weaknesses observed by our coaches, our main movements will remain the same. This six-week phase with two hypertrophy sub-blocks will leads to an increase in the following physiological adaptations: cross-sectional area of muscle fibers, work capacity, motor unit behavior, strength, and overall muscle function.
REFERENCES
Grgic J and Schoenfeld BJ (2018) Are the Hypertrophic Adaptations to High and Low-Load Resistance Training Muscle Fiber Type Specific? Front. Physiol. 9:402. doi: 10.3389/fphys.2018.00402
Hedayatpour, N., & Falla, D. (2015). Physiological and Neural Adaptations to Eccentric Exercise: Mechanisms and Considerations for Training. BioMed research international, 2015, 193741. https://doi.org/10.1155/2015/193741
Oranchuk, D. J., Storey, A. G., Nelson, A. R., & Cronin, J. B. (2019). Isometric training and long‐term adaptations: Effects of muscle length, intensity, and intent: A systematic review. Scandinavian journal of medicine & science in sports, 29(4), 484-503.
---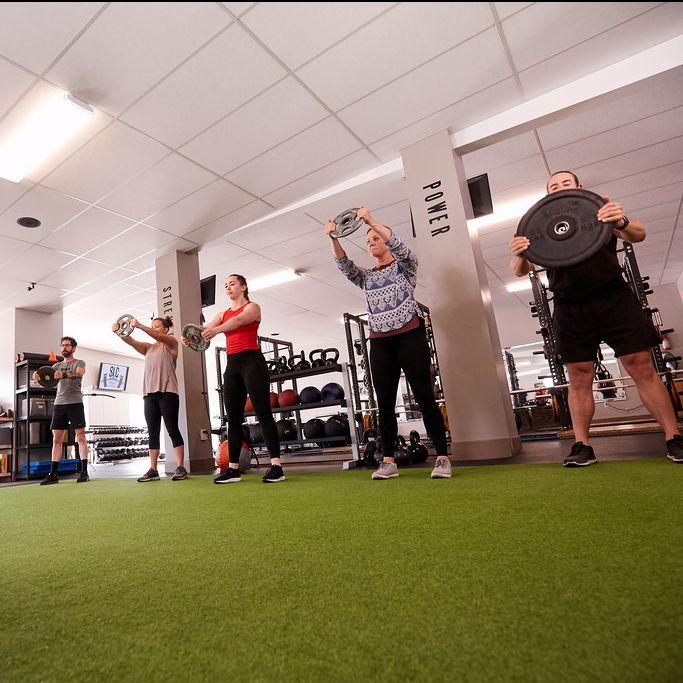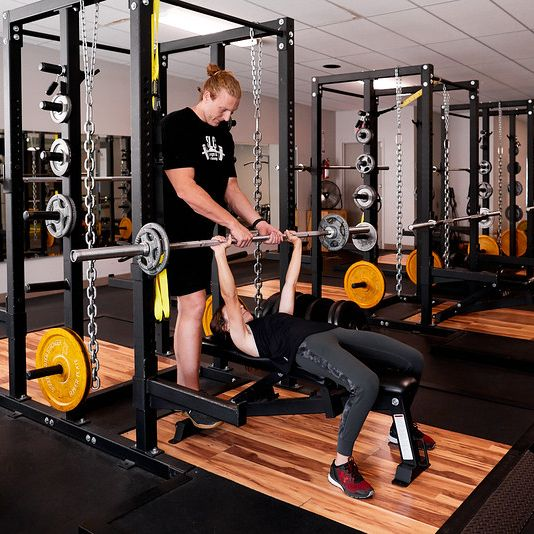 ---
NEW CLASS STRUCTURE
We've implemented a new way for workouts to be executed in the classes, specifically with the DB/Turf stations!
Previously, we were separating those two stations (one station at the DB area, one station on the turf) where each station would be six participants working through two different giant sets and then flipping once everyone was finished. With the new structure, the members work through a single giant set (3 exercises) spread out throughout the entire turf and DB area.
In making this change, social distancing can be sustained more effectively and provide individuals the ability to space out more. It also allows for the use of more equipment throughout the class, helping us ensure programming is still progressing effectively and efficiently.
We understand that change can be difficult, but please know that the continued safety of our staff and members remains a top priority! With that, and as a reminder:
Please continue to skip the gym if you have symptoms including but not limited to a fever, cough, congestion, etc.
Please maintain, at minimum, a six-foot distance between one another.
Please washing hands and/or use of hand sanitizer prior to class participation.
Avoid touching mouth and face while working out. Towels will continue to be available.
Disinfectant spray and additional towel will be provided for everyone to sanitize equipment
We have gloves available for those that have sensitivities to the cleaning products in use.
Listen to and respect coaching staff and their direction, specifically with weight guidance.
Limit the belongings that you bring to the gym with you.
If you do bring anything with you, please do not leave any valuables in your vehicle as our parking lot has been targeted in the past and we've had several cars broken into over the years.
Lastly, and as always, please let us know if you all have any questions or concerns. 
---
General Updates
Youth Class Time Change
Beginning Wednesday, July 1 the Youth Athletic Development Class will continue to be held Wednesday evening but the time will be changing from 7:00pm to 5:00pm.
Class Overview:
Our youth programs are specifically designed to support and develop growing bodies in a safe and effective manner. We use and implement research backed protocols and have an emphasis on injury prevention, development of strength, power, agility, speed, and endurance. Knowing how active our youth can be with recreational sports and other various activities, our approach to strength and conditioning will support that and help ensure progression while mitigating injury. With that, we'll never put our youth clients in compromised positions with high risk exercises or movement and, dependent on age/development, we will not be loading their spines with the bar at all–developing a strong foundation using other equipment will be our priority with this age group (see below for class age groups).

The Youth Athletic Performance Class, held on Wednesday and Saturday, is intended for athletes, ages 7-15.
Please speak with a coach or email us for more information!
SLC Nutrition With Elise
Did you know we have an exclusive, 100% online, nutrition program designed to empower, motivate, and educate you on nutrition essentials to set you up for long-term success?
Program Overview:
We understand that it can be overwhelming researching nutrition, especially when there is an abundance of contradicting information out there (we get it and we hear you, trust us!). With our custom curated monthly guides, created by Registered Dietician, Elise McVicar, we're breaking through the fad diets and weeding out nutrition fact vs. fiction, providing you with all the necessary knowledge and tools you need so that you can take control of and maintain your nutrition for the long haul!
Note: This program is not a diet, it's not "trending", and we're not going to suggest you can't eat something (not a meal plan either!). This program is designed to teach you about nutrition and how to manipulate different components to meet your individual lifestyle. Best of all, we're here to help!
For more information and and cost, click HERE!
---
IN CASE YOU MISSED IT…
We landed in the top three for the Best Gym in SLC! Thanks as always for your continued support for SLC S&C. If we could vote for you as best community members, we sure would!
---
If you have any concerns with your training experience and/or constructive feedback on how we can improve as a staff or business, we'd love to hear from you so we can actively work to resolve any dissatisfaction. Please contact Kristy at training.elevated@slcstrength.com. 
---