Tomorrow marks the end of three very long months for many, if not all, of us. As we enter the fourth month, of what might be considered our new normal for some time to come, we wanted to reach out and provide some updates with respect to the Continuation of Remote Services (Programming & Virtual Personal Training) and an Operations Update.
CONTINUATION OF REMOTE SERVICES
After evaluating current participation rates in the remote programming and knowing that some of you are not comfortable coming into the facility just yet, we have decided to continue with the Remote Programs and Virtual Personal Training.
Remote Programming: This will be Phase 2 of our remote programs, with Phase 1 being the 12-week body weight workouts that are provided here. This phase of remote training will be moved into Zen Planner and will essentially reflect the programming that we're doing in the facility. Most of these exercises are intended to be executed with weight and we are providing appropriate modifications and household item suggestions that can be used in lieu of traditional equipment, if needed.
Phase 2 programs can be found via the Zen Planner Member Portal through our website or the ZP Member's App, however, links to instructional video are only accessible through the Member Portal (via browser) at this time—we have contacted Zen Planner to see if this can be fixed for ease of access.
Login to the Member Portal/App (https://slcstrengthandconditioning.com/member-login/)
Click Workouts
Select Today's Day
Ensure 'Remote Program' is selected
From here you can view the program, click on the red headers (i.e. Walking Mobility, Sprint Mechanics, Quicks, etc.) for video links (browser only). You can also log your results by toggling to the Log Page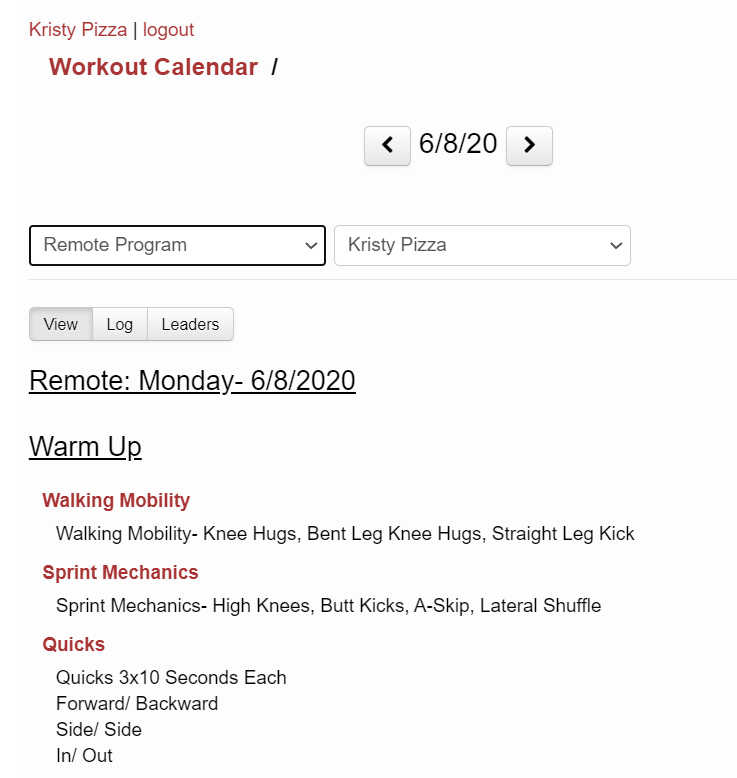 Virtual Personal Training: Whether you are current, former, or prospect personal training client, this virtual service is an excellent option for those that are looking to get back into regular exercise and movement. This is a completely contactless option that can be executed in the comfort of your own home. Our coaches will work with you to create a program that fits your needs and has proven to be quite successful with many of our existing personal training clients over the past three months. If you're interested in learning more about this service or would like to start, please contact Kristy.
OPERATIONS UPDATE
All protocols that are currently in place, regarding symptom checking, mask use, sanitization, and social distancing will continue to remain and be enforced for the foreseeable future. Everyone has been doing so great with keeping their distance and disinfecting their areas so far and we just ask that you please continue to do so. Please also be mindful that we do have families and members of the same household that train at SLC S&C—if a coach pairs patrons in close proximity to one another, or does not require members to maintain the 10ft distance between themselves, that is why.
You can read more detailed information on the protocols that we have in place here: https://slcstrengthandconditioning.com/2020/04/30/slc-sc-facility-opening-5-2-with-restrictions/
Also, the CDC has updated their website to clarify details on transmission of COVID-19 and how to prevent getting sick. We encourage you to read up on that here: https://www.cdc.gov/coronavirus/2019-ncov/prevent-getting-sick/index.html
Lastly, and after close attention the class flow and volumes, we have decided to open the 5:00 am timeslot, five days a week, effective tomorrow 6/8. This class will have a 6-person cap to start and will be done downstairs (enter through main doors). Regarding class reservations, if you're unable to attend, please ensure your reservation is cancelled ahead of time so another member that is waitlisted can participate in that class.
Keep an eye out for our June Newsletter, which should be hitting your inboxes soon, and keep us posted on how you're doing, or if there is anything we can help with.
Stay safe and stay healthy.
Best,
SLC Strength Team